12/01/2021, 07:51 PM (This post was last modified: 13/01/2021, 10:51 AM by boatbuilder.)
Hi Sean and others, 
Thanks for all of the useful info you've shared on the site.  
I've been reading your posts for a few years now and based on that,  I bought a Huawei B593s-22 router which I have been using successfully for about two or three years now.
Speeds in the middle of the night are around 15Mbps but painfully slow at peak times (0.2Mbps sometimes).  Upload speeds tend to be better than download speeds.  I live out in the coutryside in County Cavan and I've been using it with an outdoor directional antenna, pointed towards what I think is the nearest good signal from maybe 5 or 6 miles away or maybe more, not sure.  
Unfortunately I don't have line of site as I'm down in a valley and the antenna is pointing
 into a hill.
Here is the antenna I'm using... 
https://www.amazon.co.uk/dp/B00EE8RRFK/r...TE_3p_dp_1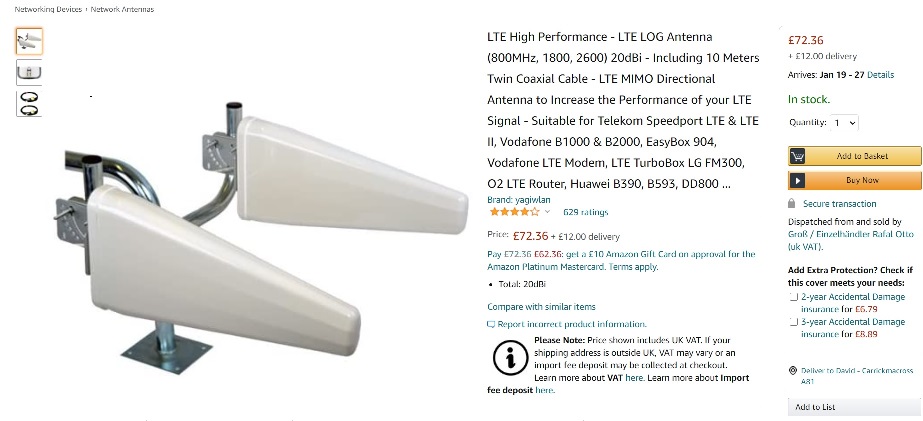 Anyhow, I've bought a B818-263 because it seems to have more settings on it..... I've played around with the LTE bands settings in the router and taken some notes (just using the internal antenna for now, as I'm waiting for an adapter to connect it to my external one).  Straight away at 7pm I'm getting 5Mbps with the B818 internal antenna on Band 1, compared to 0.85Mbps juat a few minutes before on the B593 with external antenna.
Do you have any advice on how to proceed?  Is there a way to find out where the masts are, using the cell id listed in the Huawei?
I'm finding band 1 (2100) to be the best speed and it lists cell id 800286, but I can't find it on the comreg siteviewer.
I'm guessing I was picking up band 20 on the old B593.  With the B818 set at auto, it picks up band 20 too but the speed is very slow.
Here are the results on the B818 just sitting on a window sill with the internal antenna.
David