The 48 Network is by far the most unusual network I've come across between ordering it to getting it set up.  Being prepay, at least it does not have the hassle of setting up a direct debit or the risk of running up a bill.
I originally ordered a 48 SIM on the 23rd August before the network announced its €7.99 plan.  Apart from an order confirmation e-mail, I heard nothing afterwards, so tried re-ordering two weeks later.  A family member ordered a SIM and got a despatch notification (which I never got) and the SIM arrived a few days later.  I tried re-ordering it again and also via Chat, where the agent assured me one would be sent out. 
That never happened.  So even though I never had the "Out of country" issue others reported, 48 didn't seem interested in sending me a SIM for some reason.
The SIM finally arrived.
48 has a recruit feature where if someone orders a SIM for a friend, when both purchase a month's membership, both will get that membership fee refunded as credit.  So I got someone to order me a SIM, which I've now tried over a few days at home.  I activated it with a different e-mail address.
The SIM requires activation to work and just showed 'No service' until I activated the SIM on my account.  Once set up, the phone showed a 'H+' signal and started to work straight away. Despite showing '48' as the network name, it automatically configured itself with the Tesco Mobile APN:
Despite the wrong APN settings, data was working fine.  I went ahead and purchased the 100GB membership.  This also gave me €7.99 in credit, although I'm sure whether the next month's membership will come out of this or if this is just for out-of-bundle charges such as International calls.  Anyway, a short while later an SMS came in, this time from O2!?  
Seems like Three hasn't cleared out all the traces of the former O2 name from its systems.  Even then, it should be showing as from '48', not Three either. 
For the next few hours, I only had 3G data access as it seems like it takes the network a while to provision a new SIM for 4G access.  After restarting a few times over the following hours, it eventually got 4G access and I tried some speed tests.  From my limited testing so far, it appears to function identical to my Three SIM.
I then tried the SIM in two different routers.  With my MikroTik Chateau LTE12, I just had to input the SIM pin # and it connected straight away with the default auto APN.  At the time of testing (~12:30pm, 24th September), I tried 3 basic TestMy download tests with UK, Germany, Texas and Australia.  These are the averages:
TestMy Server - 48 - Three
UK - 18.18Mbps - 12.79Mbps 

Germany - 13.03Mbps - 12.55Mbps

Texas - 8.92Mbps - 5.33Mbps

Australia - 4.77Mbps - 5.28Mbps

UK (Upload) - 16.8Mbps - 13.71Mbps

The individual tests fluctuate quite a lot from one moment to the next, but otherwise it appears that both networks perform very similar. 
Traffic shaping is just like with the Three network - UK vs Colorado Springs (USA):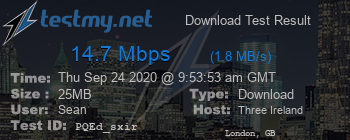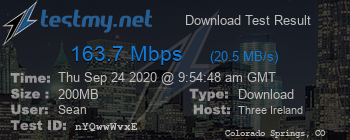 Besides the vast difference in speed, notice the Host name above - Three Ireland.
When I tried the SIM in a Huawei B525, the network name shows up as "3Ireland" and automatically configured itself with "tmidata" as the APN, which is an APN Tesco Mobile originally used for its former mobile broadband plan.  Unlike the phone's Tesco mobile APN, it failed to connect until I changed the APN to 48months.liffeytelecom.com
As my landline is VoIP based (Goldfish), I plan running it over the 48 SIM and running the rest of my network over my current Three broadband.  Over the first day so far, the VoIP landline appears to work fine for both incoming and outgoing calls.  By running it on a separate data connection means it is not affected by latency spikes from usage on the network, a problem I was regularly having lately.