Hi all,
Some time ago Sean assisted me with setting up our broadband at home, long story short I ended up trying out a pair of Co-linear tube antennas with the hopes of latching onto a relatively weak Band 3 signal from Vodafone but it didn't go to plan, we reverted to a router placed on an part open window in the workshop and a WiFi repeater which to a degree has worked OK we were able to get around 10mb down and 2-3mb up which was OK for what we were using it for at the time.
Roll forward a few months and both of us are now faced with working from home and need a better connection, the contention on Vodafone spiked with the arrival of Covid and made it almost unusable during peak hours so I purchased an Eir sim card as there is a mast next to the Vodafone one we had been connecting to before in the hopes it was less congested or maybe even swapping between the 2.
I set this up this morning and below are the figures and speed-test from both inside and outside, one note on the outside figure is that I had a number of 20+ mb download tests earlier on but the test I did that is below was done immediately after the indoor one so as to try and be somewhat accurate.
We are not far (3.5km) from mast but are surrounded by forestry in all directions unfortunately.  Testing with Vodafone produces similar results although being on Vodafone X our speed is capped around 10-12mb down but can get up to 25mb on my phone stood in field on Vodafone.
I am connecting to Band 20 on both Vodafone and Eir and my question being which antenna would suit us best given the readings below?  I am sure Sean recommended a pair of LAT 22 (I think) antennas previously and wondered if this advise still stood firm.
Thanks in advance for any advice.
Location of property in relation to both the Vodafone and Eir masts which are situated together.
Router signal readings with router placed indoors facing direction of mast (Eir)
Testmy results for above.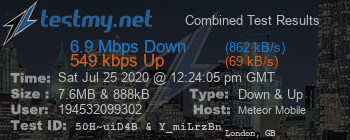 Router signal readings with router placed outside on a chair (no elevation)
Testmy results for above.