I went back down and moved it as far down as I could get to get a better angle, I only improved the RSRP by about -2 or -3 but wow it made a difference to the upload
Even if they do enforce the speedcap i'll be buying the one for 35 euro a month with no speed cap if it's THIS good. The cell seems to be lightly loaded all the time which is odd, I even saw -4 RSRQ while setting up the new position
  It's absolutely perfect for my streaming too because I'm getting 25-30 Mbps Upload now at 7pm 
  Still no sign of three fixing their mast/whatever is wrong. It's a shame cuz it was working so well with triple CA getting similar upload as well but went downhill since that stormy day. 
The SINR also peaked at 24 which is by far the highest i've ever seen, moving it really helped the upload like I was initially disappointed with the 14 Mbps Upload I was getting but now that i'm hitting 30 Mbps upload after moving it i'm over the moon.
I just started using chrome remote desktop to check my signal while being down the field so it saved me alot of hassle running up and down too. Since I was getting signal with phone anyway.
Before I was maxing out around 14-15 Mbps upload at any time with vodafone in initial spot. It's insane how much moving it helped the upload.
So do you think the R11e4G is my bottle neck? What do you that cell is capable of if I had a gigabit port on there 
Also how come it's so lightly loaded? Is each sector fed with a certain amount of bandwidth or is it for all 3 , maybe since it's pointing toward me away from the town , that i'm basically getting the cell to myself, im not complaining though I hope it stays that way
Signal before: 
Signal I'm getting now: 
Speedtest.net results and Testmy.net in the new position: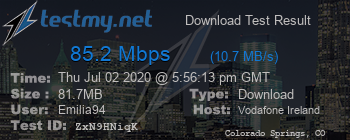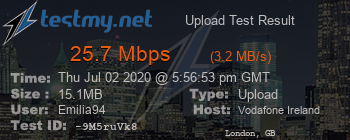 Look at the Three result at the bottom in comparison , kind of sad